As exposure to UV and other weather conditions are factors that affect the lifetime of the hose, the hose and regulator on your grill is designed in a way that allow for easy replacement.
Weber recommend replacing the hose and regulator every 5th year*. However, if the hose is damaged in any way, do not use the grill before a replacement is installed. Routine inspection is necessary to ensure a safe grilling experience.
To remove the hose and regulator, follow the steps below.
NOTE! Some connections utilize a left-handed thread. Turn clockwise to loosen!
Disconnect regulator from gastank
Locate hose and regulator connection
Using two tools, either open-end- or adjustable wrench, turn clockwise to loosen while using the second tool to hold counter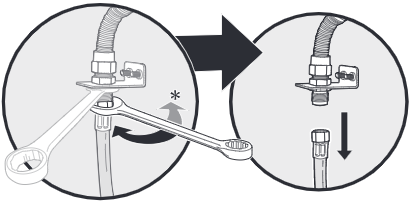 Remove the old hose an regulator set
Repeat in reverse steps to fit the new hose and regulator. Turn counter-clockwise to tighten on units with left-handed threads.
Check for gas leaks when the hose is securely fastened to the grill. Follow this link for a guide (insert link to other article)
*Please note: There may be local laws requiring a different frequency for when the hose should be replaced, in which case local laws overrule our recommendation.