Weber has made so many different versions of our Charcoal, Q, Spirit, Genesis and Summit models it could make your head spin. While having a huge assortment of grills to choose from is a great thing, it can make it a bit hard to figure out which is the correct replacement part.
Serial numbers are the single best tool for identifying a Weber gas grill, and every gas grill that Weber makes has one. Weber charcoal models have serial numbers too, but they are even more crucial to have when dealing with a gas grill, due to the gas train parts involved.

Whenever anyone calls Weber Customer Service one of the first questions we ask is if they have the serial number for their grill. This ensures that the representative taking the order will order all the right parts for the grill. Not only that, but serial numbers are used to register grills in our system to provide warranty coverage.
So where does one find a serial number on a Weber grill?
On gas and charcoal models, the serial number will be on a data label affixed to a component of the grill.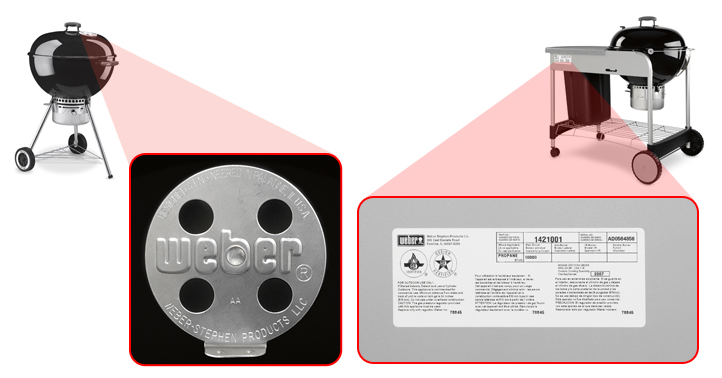 So now that you know where to find a serial number, what does a serial number look like?

That depends on the age and type of grill. Before October of 2012, charcoal models did not have full serial numbers. Instead they had a one or two letter serial code. Since October of 2012 charcoal models have serial numbers that start with two letters followed by 5 or 6 numbers. Since the Genesis gas grill was first introduced in 1985, all Weber gas grills have included a serial number that starts with one or two letters followed by 5 to 7 numbers.
Here is an example of a serial number from a Weber gas grill.
Even the experts here at Weber will tell you the value of having the serial number for your grill, as no one can memorize every feature, part and piece of information on all the different models we've made, so do yourself a favor and find your grills serial number. Hopefully, you'll never need to use your grill's warranty, but if you should need to one day, you'll be glad you've got the right information at hand!